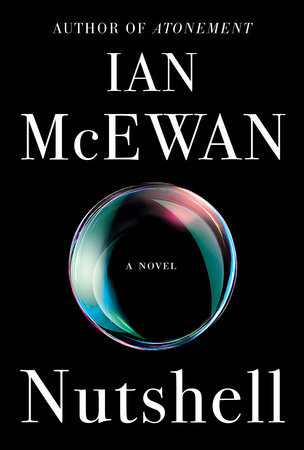 Nutshell by Ian McEwan
197 pgs, Nan A. Talese 2016
I've taken a break from the fantastic, the unbelievable; no magic here. No wizards or swords, scullions or prophecies. Nutshell's narrator: a sentient fetus enlightened by his mothers voracious consumption of podcasts and his poet father's tendency to erupt in spontaneous readings.
"So here I am, upside down in a woman."
With such parents life might be easy but of course without conflict this book would not exist.
"It's in me alone that my parents forever mingle, sweetly, sourly, along separate sugar-phosphate backbones, the recipe for my essential self. I also blend John and Trudy in my daydreams—like every child of estranged parents, I long to remarry them, this base pair, and so unite my circumstances to my genome."
The ancestral home is in disarray. For reasons unaware to our narrator Trudy has cast John from his London manor. Trudy further strains her bond with her unborn son by soiling his beloved father's memory by replacing him with a banal, cliche-ridden lover: Claude, none other than John's brother. Together the pair plots to murder John, sell the London manor, and live off the millions.
"Not everyone knows what it is to have your father's rival's penis inches from your nose."
The murder of a family member; tragedy in most scenarios. Imagine the sorrow here. Not yet a part of the world but already exposed to its evil. (Write this book one hundred years earlier and its major theme would be: has evil been imprinted on the innocent? Is he destined to be monster?) Compound that exposure with the inability to act and you've got among other things, a page-turner.
Nutshell's concept, its gimmick, sounds ridiculous. It certainly is; I admit, that's why I picked it up. Don't let that dissuade you reader of realistic fiction. It would've been easy for Nutshell to come across as contrived. A worse, pulp-fiction author may have given our narrator undue agency, the ability to influence on the world. Rest assured McEwan treats us with more respect than that and delivers a novel well worth reading.
Rating: 4 out of 5 spiked smoothies
Up next: Ilium by Dan Simmons